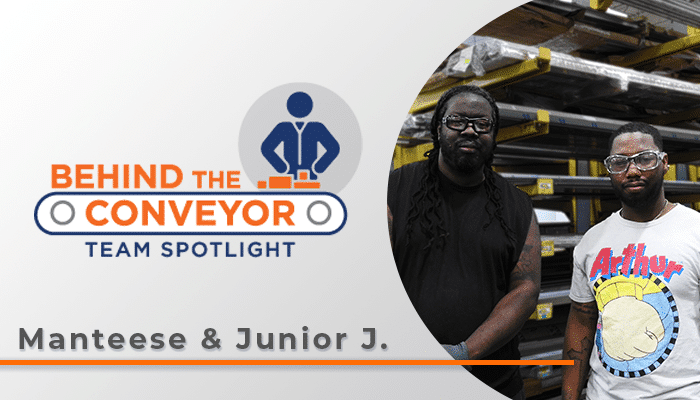 Behind the Conveyor – Team Spotlight
Dorner has become a global brand in conveyor automation – and that's all thanks to our team. In this blog series, we highlighted talented professionals whose dedication and passion are making a positive impact on your conveyor systems. These are the faces behind the brand who are helping to transform conveyor automation … and having fun doing it!
Meet Manteese and Junior
The shop floor at Dorner is the perfect place to learn new skills and continuously have new challenges to solve. That's what Manteese J. and his son, Junior, enjoy most about working here.
"I like putting complicated projects together," Manteese said. "My mind always has to be busy." As a maintenance technician in Dorner's 7x department for 10 years, he certainly gets his fair share of complex conveyor systems to work on, whether it's working on small food-grade conveyors or massive stainless steel accumulation systems for large-scale food production.
For Junior, the hands-on job of a BTO technician in the 3x department is exactly what he was looking for in a job. Starting with Dorner almost 6 years ago, he has taken on many different challenges and developed a wide range of skills. "It's good to learn as much as you can," and there are always different jobs to do each day. Some days it'll be assembling motors, other days it'll be cutting pieces to customize them as needed for a project. "I like the fabrication part of it the most, but it's nice to be doing something different every day."
For Manteese and Junior, it's good to be in the business of conveyors. Automation is growing, and conveyors are becoming essential for almost every industry within manufacturing. "Technology is advancing, and conveyors are getting more and more involved." It's important to have a team of people who are excited about improving conveyance technology and creating new systems to meet the needs of our customers.
The Dorner Difference
It's professionals like Manteese and Junior that go above and beyond each and every day. Our global workforce takes pride in partnering with our customers to optimize efficiency and productivity in their applications. We accomplish this through the design, manufacture, support, and distribution of high-quality conveyor systems that meet our demanding standards.
That's the Dorner Difference